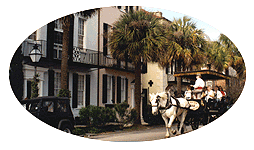 Bed and Breakfast Getaway
Treat yourself to true southern hospitality in our choice of one of Charleston's Bed and Breakfast Inns. Located on the Charleston peninsula in the Historic District, several inns have been specially selected due to their unique personality and charm. Step back in time and surround yourself with architecture from the 1800's, period style furniture and beautiful courtyards. As you relax among fragrant flowers and cool breezes you will come to relish the laid-back life style of the old south.
After you settle in, you may want to stroll the neighborhood and observe some of the unique and spectacular homes in the area. Afterwards, enhance your knowledge of the antebellum neighborhoods and slip into the past on a horse drawn carriage tour provided by Palmetto Carriage. Top off the evening with a romantic dinner at one of Charleston's most respected restaurants, 82 Queen.
The next morning, when you are finished with a wonderful breakfast, trace the footsteps of the rogues of the sea. Revisit battles that ended the "Golden Age of Piracy" on the Pirates of Charleston walking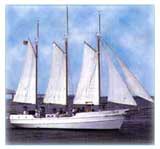 tour. You're sure to be famished for seafood afterwards. Drown your hunger at Charleston's best seafood restaurant, East Bay Crab Shack. Then get ready to sail aboard an 84 foot three-masted topsail schooner. A two hour harbor cruise aboard the Schooner Pride will allow you to relax. Or, if you wish, you are encouraged to help work the sails. Either way, it's an experience you won't forget. Before dinner, unwind at Charleston's Water Front Park, then enjoy a dazzling display of American cuisine with a Southern flavor at Magnolia's Uptown Down South restaurant.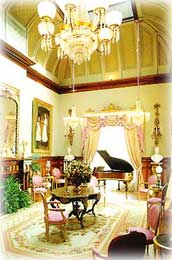 After a delicious breakfast on your second day in our wonderful city, enjoy a tour of one of the great houses on the Eastern Seaboard of America, The Edmonston-Alston House. This 24,000 square foot Italianate structure has been featured on the Arts & Entertainment Channel's AMERICA'S CASTLES. For lunch, dine outside in a walled courtyard, or in an in-house bakery at Blossom Cafe. Their exhibition kitchen with its oak burning oven will delight all of your senses.
To further enhance your getaway, your package will include a list of recommended activities that can be enjoyed at no charge, making certain that your trip to Charleston is a memorable one. Reserve your package online now by using our secure order form below.
Complete Getaway Package. Price includes all accommodations, restaurants, and tours listed in the above package description.
Three Days ~ Two Nights
One Rate: $950.00
Per Couple
Four Days ~ Three Nights
One Rate: $1150.00
Per Couple

Charleston Getaways.com


843-991-9999




:










Please click on each icon for complete details of your travel package.


Please report any problems to: webmaster2 @ charlestongetaways.com